Now that I have your attention, I will get to the the pole dancing later in this post.
We left the nice relaxing anchorage near South Beach on Monday to venture south into Biscayne Bay. Biscayne Bay is shallow, about 10 - 15 feet deep but very wide and open. It was a perfect place to do some sailing and Pearl proved to be up to it. Just outside of where we were anchored was the Port of Miami basin where the large cruise ships depart and return to. They also do full 180 degree turns there which we could see over the trees from our anchorage. Even if you have been on one of these ships you really don't get the full view of how large they are until you are up close and personal with them on the water.
We motored a few miles under a couple of bridges and finally made our way into the wide part of Biscayne Bay. We raised the sails, turned off the engine and were sailing silently along enjoying the scenery and watching the other sailboats. Pearl certainly isn't a racing machine but she sails smoothly and firm even in the light conditions that day. Gayleen, of course, went forward to supervise and make sure I didn't get that big white thing between her and the sun.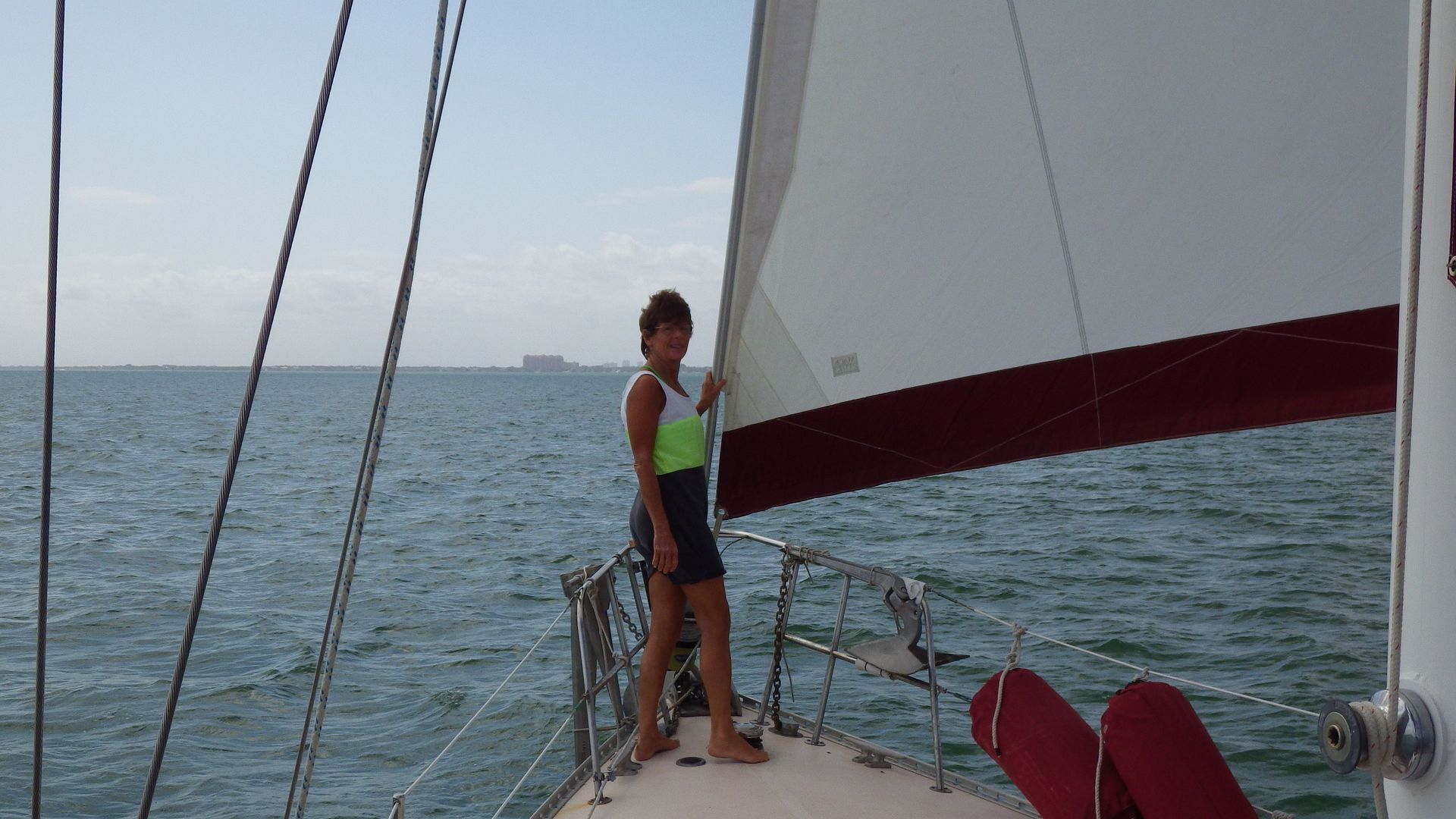 After a nice day on the Bay we made our way down the long narrow channel into Coconut Grove, Florida and the Coconut Grove Sailing Club had a mooring waiting for us. Once again we took advantage of long hot showers and laundry facilities. You really develop an appreciation for the modern conveniences of a house when you have to go without for a while.
We are finding that as we move slowly south, our intentions of staying for a day someplace end up stretching for several days and we are still here in Coconut Grove. The town is fun with an area called Coco Walk that is several blocks of unique shops and restaurants. There is lots to do and lots to see. We have lots of time so why rush?
We are still here today due to a couple of days of heavy rain and a strong windy front coming in tonight. Yes, its supposed to get down to the 30's in temperature tonight so once again it's time to dig out those winter clothes we still have on board. The benefit of staying for the weekend is that we got to experience the Coconut Grove Arts Festival that is going on through the long weekend just next to where we are moored. In fact, the Coconut Grove Sailing Club is inside the gates so we get to attend for free. There are more artists displaying their paintings, sculptures, photos etc. that I have ever seen in one place. If you have a passion for art this should be on your list to visit. Gayleen loves her latin music so we spent time next to the stage watching and listening to the live music.
After the front moves through either tomorrow or Monday morning we will leave this fun spot and head south to Pumpkin Key which puts us far from the city life and we hope in clear snorkeling water.
We don't have a television and tend to go to sleep with the sunset and wake with the sunrise. You know you have been on a boat too long when you find that some of the simpler things entertain you the most. This week it was "Taz the Pole Dancer." Taz is one of our crew who usually hides in a dark hole asleep all day but as soon as the sun goes down comes out wide awake and ready to cause trouble. This week she was showing off her pole dancing skills on the carpet covered section of mast that goes through our salon area onto the bottom of the boat. We adopted her from a shelter when she was young so we don't know her heritage but evidently she has some skills we didn't realize she had, climbing the pole and then spinning around it until she comes to a rest on the floor. Taz in action....