Its been some time since I have had high speed internet to upload photos so there is lots to catch up on. Last we left off we had a wonderful evening at Pumpkin Key working our way south down the keys on the inside ICW channel. The next day was an enjoyable light wind day sailing our way down to the bottom of Barnes Sound and through Jewfish Creek to the top of Blackwater Sound. The plan was to motor south through the ICW the next day through the narrow channel getting us to a cut to the ocean called Channel Five. That was the plan...BUT..maybe we should have researched this a bit more on the internet. It turned out that the ICW has been shoaling in through the 20 miles we would have had to motor and folks were reporting 4 1/2 ft depths even at high tide in places. That was a bit too uncomfortable for our draft which is just under 5 ft. The hearty of the sailors just said to plow through the soft bottom and bump your way down, but we really didn't want the headaches and stress involved in that. In the best interest of our well being we pulled a U-Turn and headed back north to Miami / Biscayne Key to decide what the next plan should be.
We could either cross to the Bahamas given the proper weather window, or head down the keys on the outside through what is called the Hawk Channel. To make a long story short we waited for over a week for a weather window to do either option and the cold fronts continued to roll in from the North with very strong winds making both options undesirable. Time had been passing by quickly and we were anxious to get under way. With the next weather window to the Bahamas at least another week away we took advantage of a two day weather window that allowed us to make the 100 mile, two day trip down the outside to Boot Key / Marathon, Florida. We arrived on Friday and will stay for a week or so enjoying the community here and planning what our next destination will be. A picture says it best..here is where we have been the past two weeks.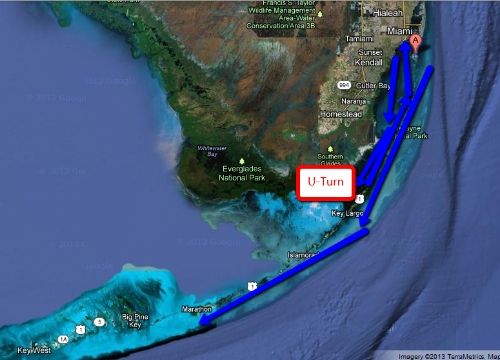 Boot Key Harbor has a very active community of liveaboard cruisers. There are several marinas and a mooring field with more than 200 moorings. We are nestled among many other sailboats and trawlers. Some are here for months and some only a day or two. The folks are very nice and everyone here comes together as a community helping each other and meeting new friends. Each morning at 9 AM on the VHF radio channel 68 there is a community get together where new folks introduce themselves, departing vessels say good bye, there are announcements of activities such as a softball game today, for sale / swap announcements as well as requests for help on any issue. The radio get together ends with some trivia questions and the day begins.
The most significant accomplishment for us was the two day 100 mile sail down from Key Biscayne to Boot Key / Marathon. Gayleen is really learning quickly which make the sailing of Pearl much easier. We left Key Biscayne at 6:30 AM on Thursday in VERY strong winds. We decided to trust the weather resources that said the winds would moderate mid morning and get lighter all day. We motored about 5 miles to get into the open ocean where we were going to decide whether we would push on once we saw what it was like on the "outside". It really wasn't much better but we decided to go for it. That turned out to be the right decision and we had two great sailing days with full sail up getting us to Boot Key with a 10 hour overnight stop at the only viable anchorage, Rodriguez Key, which is about the half way point.
It turned out that the biggest challenge was avoiding the many many lobster pot buoys that we had to slalom through the entire second day.
OK..enough with all this typing. The feedback I get is always...more pictures. So..here goes... Our favorite times of the day are sunset and sunrise. We can never get enough of the show. Mother Nature is better than any TV program we remember watching.
One of our favorite secluded private anchorage just north of Jewfish Creek. The mosquitos were relentless at night but it was so nice we decided to enjoy it for a couple of days.
Another great sunset
We motored through the narrow Jewfish Creek channel back north to find that nice anchorage. As we were making our way through all of a sudden there was a roar of engines and jet engines and around the bend appeared many cigarette style racing boats. I first tried moving to the right to give them room to pass on one side but there were too many of them. I just half closed my eyes and stayed in the middle of the channel as at least 25 of these boats passed by on both sides of us. It was quite a show. For the next couple days we got to watch then launch full speed out of the channel north through the sound and back down. It was quite a show.
Miami skyline from our anchorage in the Marine Stadium anchorage.
This picture is for the benefit of our friends up north that think we are enjoying the hot weather in the Keys. We are really glad we brought some of our warmer clothing with us. It has been quite cold at night.
Stilt houses in the ocean just south of Miami. There are several of these and they are now a historical landmark. Evdiently they were built back in the prohibition days when the law said you could have legal gambling 1 mile or more from shore.
That's it for now... time to do some exploring around Marathon.