I really think they should rename this body of water the Chess-A-Peek. Every time I type Chesapeake I wonder if it has two ss'es and if it has or does not have an e at the end. Anyway, this is where we are and we are still at Dozier's Regatta Point Yachting Center in Deltaville, MD. It turns out that our insurance company had the right idea making us be north of Norfolk, VA by June 1. Hurricane Arthur turned east just south of Norfolk and the effects here were minimal.
We have been enjoying this sleepy little town that has tons of boats because of its access to great sailing and fishing but as always we are anxious to get off the dock and back on the move. The good news is that we are ready to go after the storms pass on Monday and Tuesday.
We have all heard the saying... a boat is a hole in the water into which you throw money. Well, with the new dinghy and the new enclosure and a month in a marina, we have spent enough for now. In our case, since Pearl is our home, all expenditures for maintenance and upgrades are justified just like you would take care of a house.
We are thrilled with our new enclosure. If you are on Facebook have already seen many pictures. With the bug screens in place we will be able to sit out longer in the evening and even sleep in the cockpit on nice nights not having to worry about swarming mosquitos. It certainly makes Pearl look happy.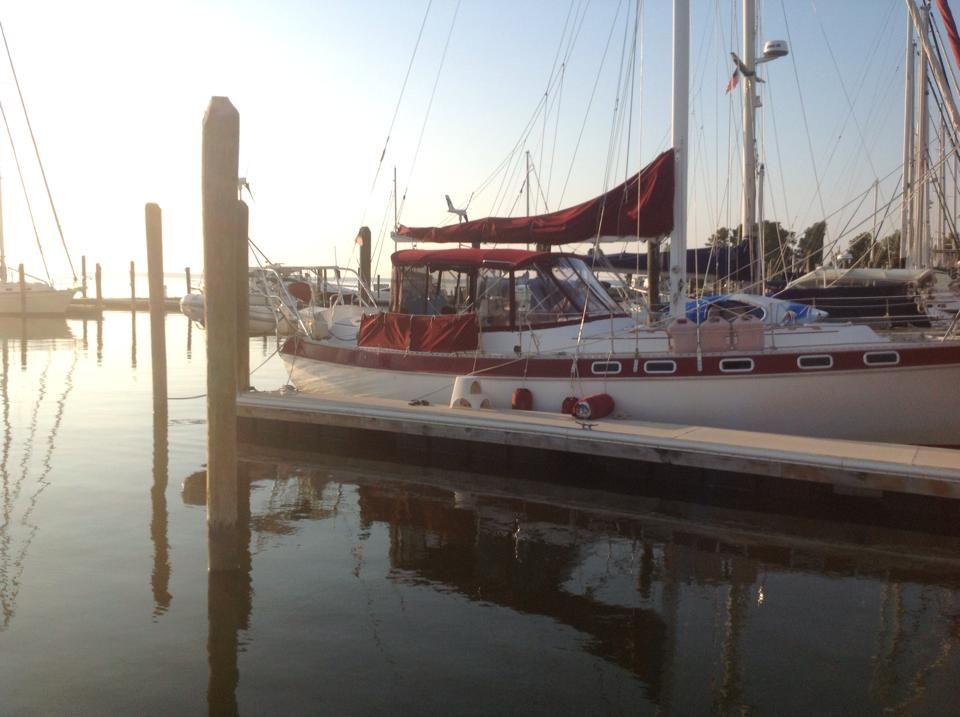 Wednesday morning after the rain passes we start heading north. First stop will be an anchorage in the Solomon Islands, MD and then on to a few days exploring Annapolis, MD and hopefully meeting up with our friends from Echo II that we met in the Bahamas. We got a call yesterday from our friends on Sea Salt that we travelled north with. As I type this they are off the coast of Long Island on their way to Block Island and then Boston. Hopefully we will catch them later this summer but for now we have lots to explore here. After being on the go every da to make it up here its nice to relax and go at a slower pace.
It is definitely a change in perspective here in the central U.S. In the Bahamas the discussions with other cruisers centered around where the best snorkeling place is and where the best beach was and where the best hiking was. Here, the discussions are mostly about which is the best restaurant at each port. We miss the clean blue waters of the Bahamas but as we continue our travels we are sure we will find interesting places to explore.