After four long HOT months at the dock in Ft Pierce, Florida we finally got under way. We did enjoy the summer and found ways to entertain ourselves while we watched for hurricanes and waited for that dreaded storm season to pass.
Gayleen had a subtle way of reminding me I needed to fix her head.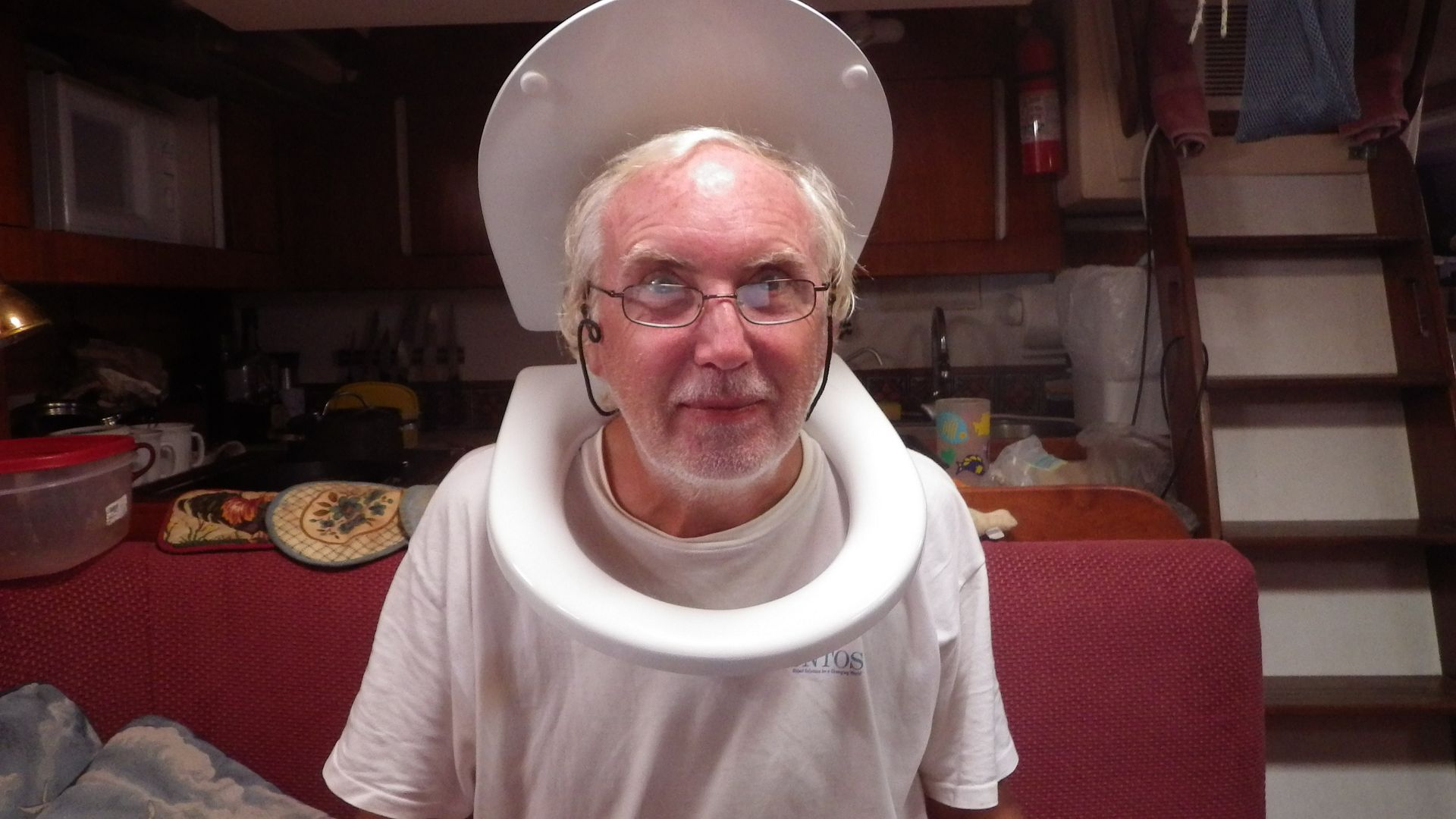 In this wonderful world of cruising, you never know who you might meet along the way and just before we were about to leave, our good friends Butch and Susan on Dream Catcher arrived in Ft Pierce on their way south from summering in Myrtle Beach. We did our first crossing to the Bahamas with them in 2012. They were headed south as well so we left together. Our new friends that just bought their first cruising sailboat, Zola, joined us as well. Unfortunately about five miles into the trip Zola had engine problems and had to drop anchor in the middle of the Inter Coastal Waterway. After almost an hour of talking Zola through possible fixes they ended up calling Towboat US and was towed back to the marina. They are just about ready to head back out so we hope that we can reconnect again soon.
We have had a great trip south and two weeks after we left Ft Pierce we anchored in the fun island of Key West.
After a few stops down the Intracoastal Waterway we finally got the right weather to go offshore and sail under full sail south. The first stop was Miami where we anchored in Marine Stadium. Its not the prettiest anchorage but it does offer a wonderful view of the Miami skyline day and night.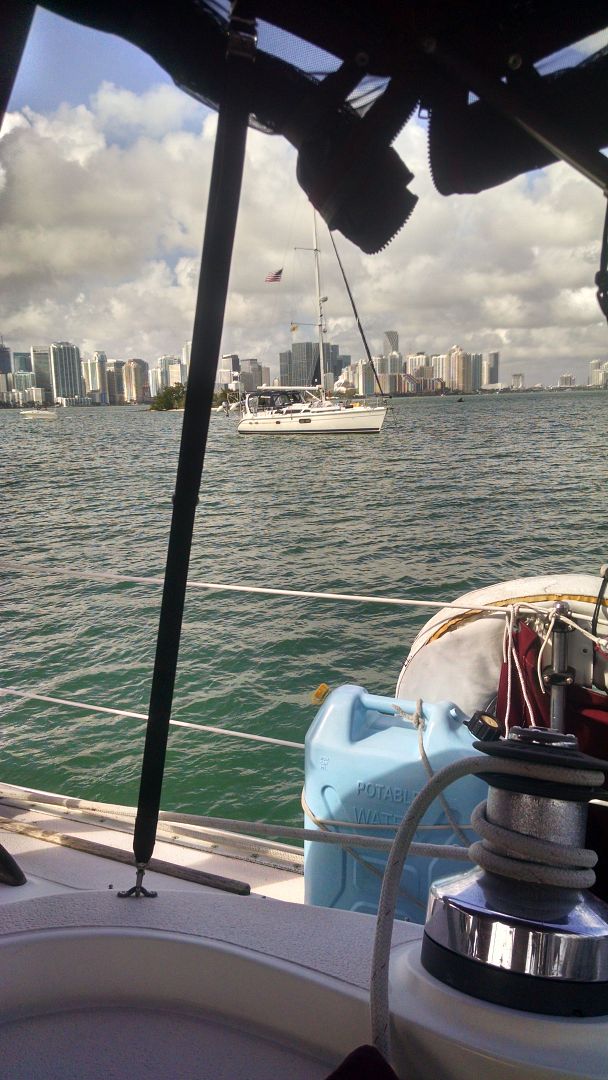 The next day we refueled, took on water and anchored just outside Noname Harbor to get an early start on the two day trip to Boot Key/Marathon. The trip would be two legs, each about 45 nauticval miles overnighting at Rodriguez Key which is the half way point and pone of the only anchorages between Miami and Boot Key.
The weather report didn't disappoint and we had two glorious days of sailing under full said with no motor..finally!
We finally got agood full sail picture of Pearl. This was taken by our friends on Dream Catcher just as we were passing them. A Morgan beating a Hunter..who would have thought? Go Pearl!
Marathon is known for its mooring field that can accomodaye hundreds of boats. It also has shopping sop we stopped for a couple of nights to shower, buy provisions and refill our water tank..that happened to leak out 90 gallons before I found the fitting that was leaking. Good thing the bildge pump works well.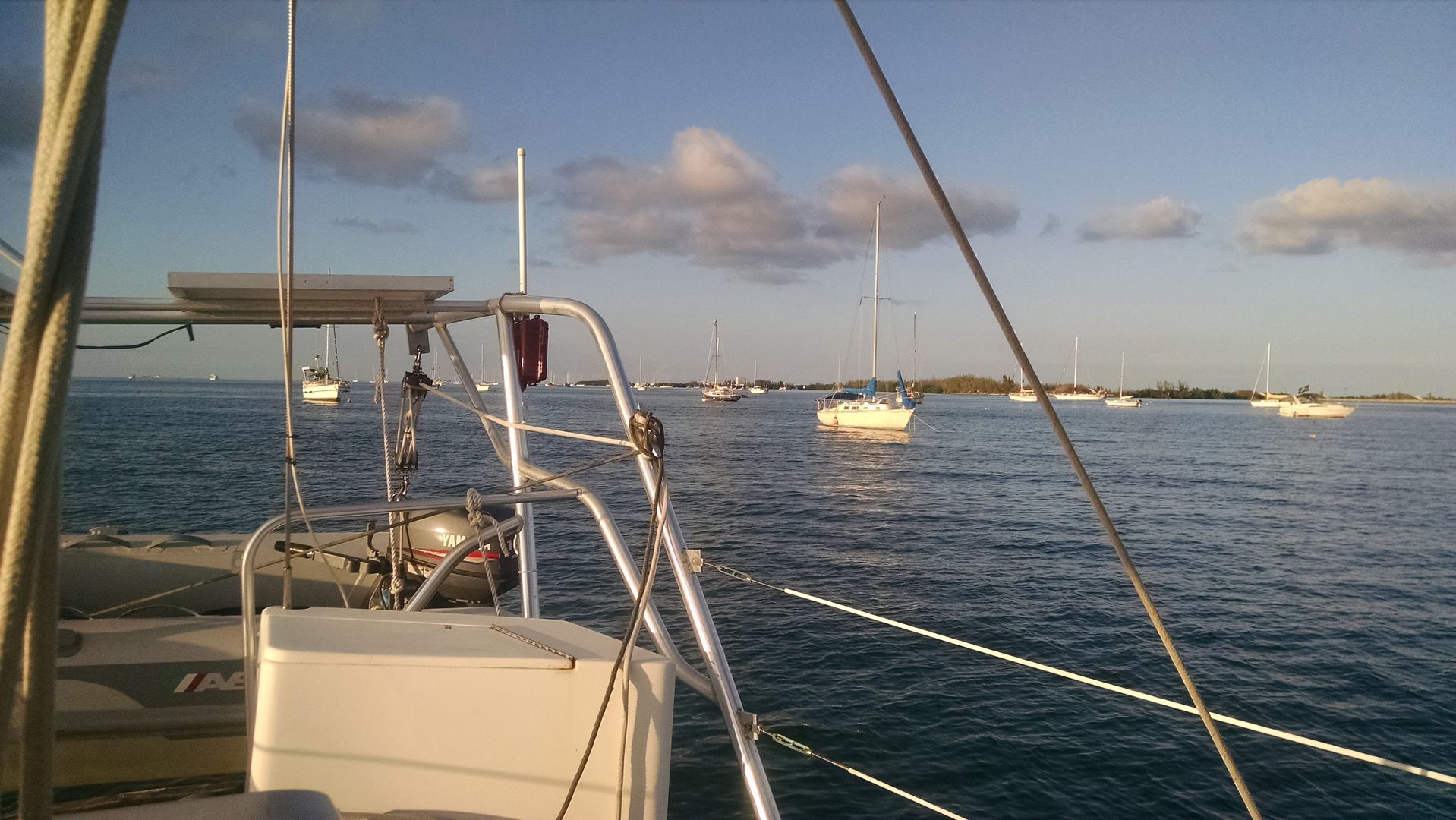 Our next stop was going to be Key West which is another full days travel from Boot Key. We got spoiled bu all the good sailing days we had and really wanted to sail that leg as well. It became clear that the wind gods were not going to cooperate for at least a week so we motored the last leg arriving at Key West in the early afternoon.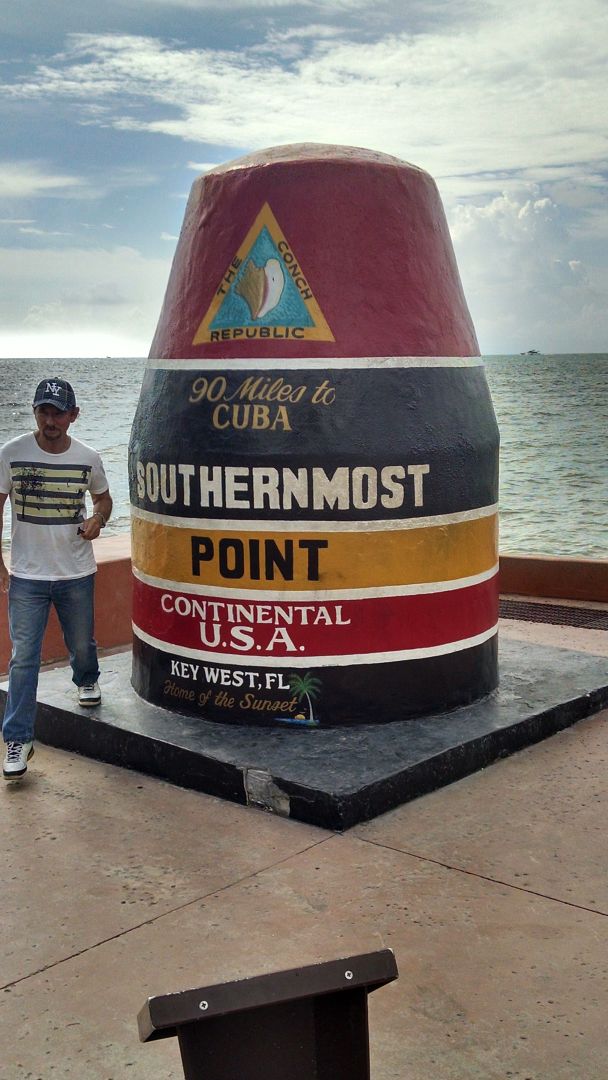 Key West is unique and fun. Even the dinghy dock is impressive.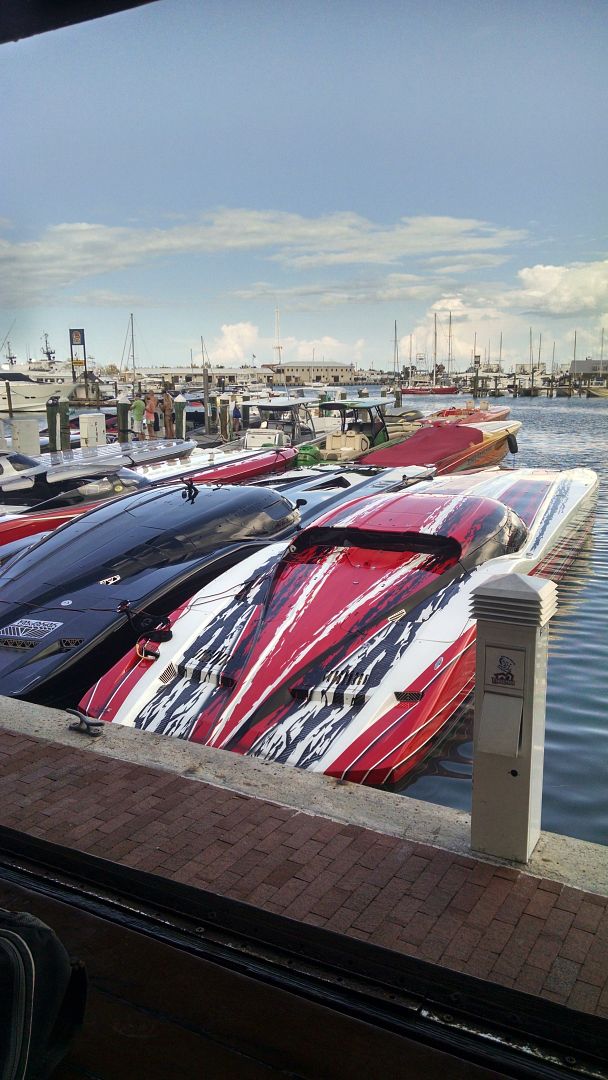 We are fortunate to be here for the World Championship Power Boat Races although our ear drums are not going to be the same.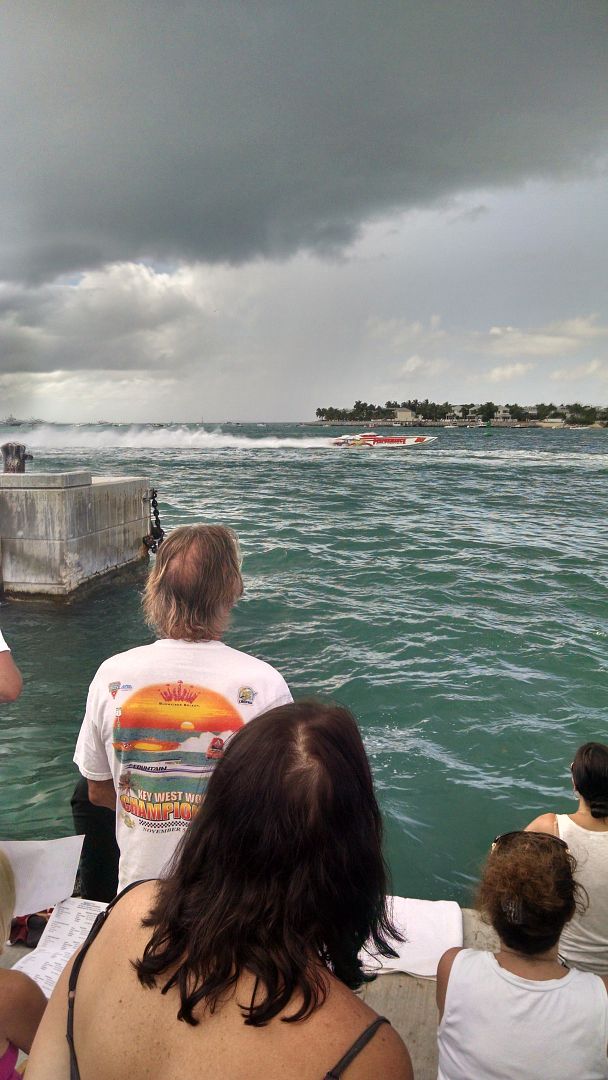 When we arrived at the entrance to Key West harbor it was closed for the ongoing races so we anchored and enjoyed a front row seat. It was a nice treat after almost 6 hours of motoring.
A big blow is coming through now so we are on a mooring ball waiting for a few days for it to pass before we can decide what our next destination will be. We did get a chance to walk around for two days and get to know some of the locals.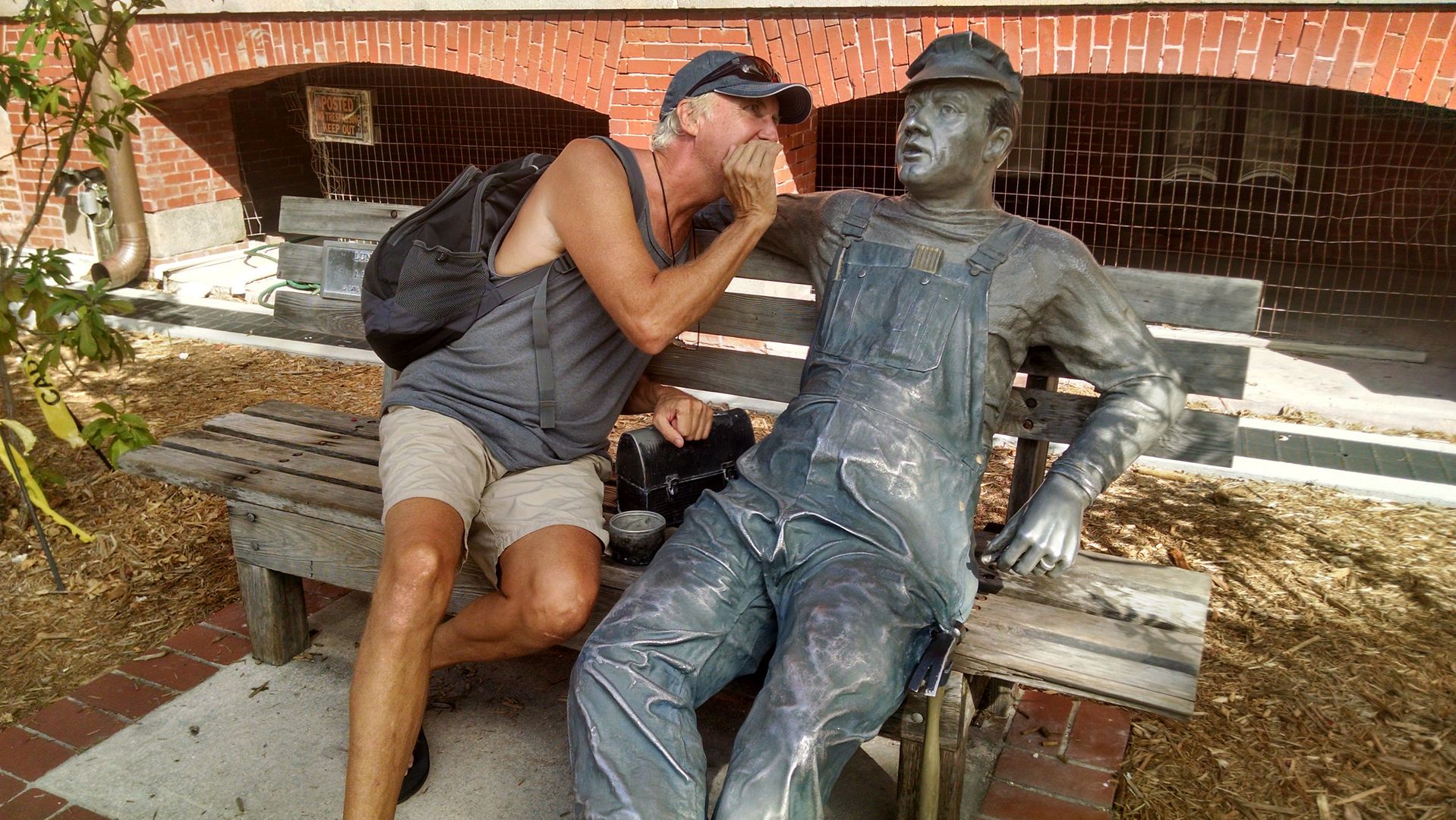 Right now we aren't sure where we are headed next. It all depends on which way the winds are blowing. In the meantime its just nice to be off the dock and on the move doing what Pearl was meant to do.